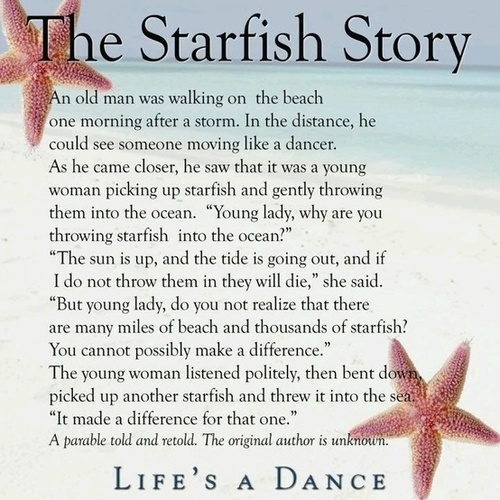 Project Starfish : Why the Name?
If you look at the Starfish story carefully, the story inspires us because of three important elements :
1. Possibilities 
2. Empathy
3. Creating opportunities
Wouldn't it be great if we applied the same philosophy with Unemployment ( 80% blind don't have a source of income) or with startup businesses ( 83% fail every 5 years).  Yes, it can work, but in the world of business, it is NOT sustainable. Primarily because there isn't a symbiosis between both. At the end, the Empathy turns to Charity! The model dies!  
But there might be a different model. We just need to change the paradigm! ( Read below)
Lets use the same model, but with a small Tweak!
What if both sides were like starfish ( both needed help), and each  Starfish were to give a "dollar" (which lets say, they can easily afford to have) to throw the Starfish back to the Ocean? Possibly there will be more people helping the starfish, because there is a mutual gain here, besides the Empathy!
So Empathy + Mutual Gain = Symbiosis = Cooperation= Sustainability 
 Now lets apply the principle to the problems :
1. 83% small business / start-ups fail, so they need help. They need Sales, Marketing, Social media, Content writing, Operations,Planning, Business Research , Admin work etc. They need part-time, multi – skilled help to get them off the ground.
2. 80% blind are unemployed, don't have an income source and looking for opportunities! How about teaching them the contemporary skills. Most are  IT savvy, and technology has made accessibility really easy that all these skills don't really require the aid of eyes. ( because the blind hear via a screen reader). After all blindness has nothing to do with intellect!
At Project STARFISH , we simply make both sides work together. We create the platform, impart the training and create the opportunities. Resources are shared among businesses(part-time), making it affordable. The blind apply their learning, help businesses , learn, experience and get paid directly by businesses, helping them become employable. We are the enablers, the catalyst!
A Story, a Philosophy tweaked, applied successfully on 30 blind unemployed professionals and 24 businesses!
80% blind have made an income! Businesses love it! We made history!